■ Overview
About BEFANBY
♦
PERFECT is committed to produce the best and most efficient factory material transfer system.
♦
Our vision is to build the world No.1 material transfer cart Brand.
♦
Any order with any special requests, even if you still donnot know whether your factory can use our rail trailer we will be more than happy to accommodate and will help you design the whole factory material transfer project together.
Characteristics of the Towed Transfer Trolley
• Rubber wheels;
• Flat decking;
• Towable by forklift;
• With no rails;
• Heavy load capacity;
• With a fabricated steel hitch pin so that a forklift can move it easily around the plant;
• Long service life;

Main products
Product Name
Model No.
Power Supply Mode
Load Capacity
Other Items
Usage
Rail Transfer Cart
KPD
Conductor Rail
Load range 1-300ton, can be customized per client demand
Running distance
Ordinary goods,such as steel plate, workpiece,equipment etc special goods,such as coil. column,ladle etc
Battery Powered Transfer Car
KPX
Battery
Using frequency
Motorized Transfer Trolley
KPJ
Cable Drum
Running distance
Busbar Powered Handling Cart
KPC
Busbar
Working shop
Towed Rail Trailer
KP
Tractor
1-100t
Working shop
Steerable Towed Car
BWT
Tractor
Load range 1-50t, less than 20t, cement floor is ok. More than 20t,steel floor is demanded.
Working environment
Trackless Handling Machine
BWP
Battery
Working path
■ Technical Data
Technical Parameter
| | | |
| --- | --- | --- |
| Model | BWT-20T | Remark |
| Load capacity (t) | 20 | Max load 50t |
| Table size (mm) | 3000*2000*550 | Customized |
| Power | Forklift or other vehicle | |
| Wheel diameter (mm) | 400 | |
| Working environment | Cement or steel floor | |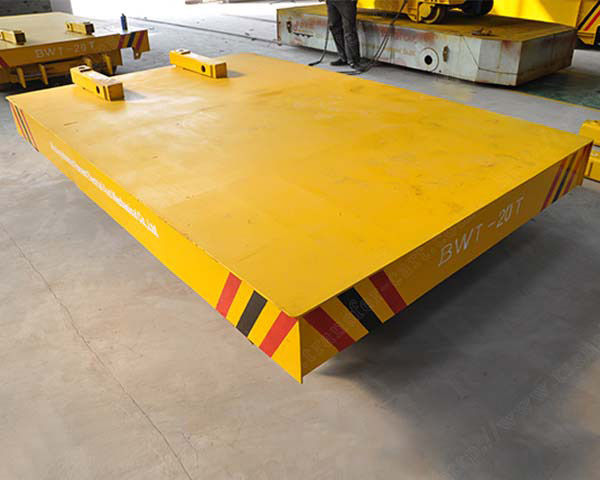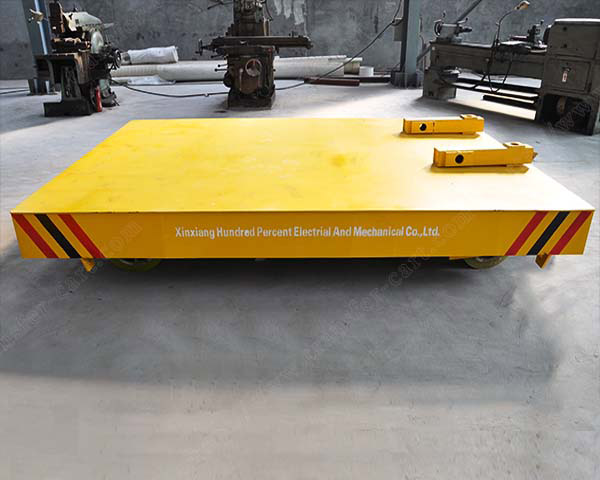 ■ Application
About the product
The trackless towed transfer cart is mainly used in the painting shop, quarry, warehouse, and the workshops for easy material transportation. Besides, the product is also suitable for the applications in other industries, such as:
1,Mine and coal industry;
2,Coking plant;
3,Steel mill to transport steel billet, hot rolled coil, steel ingot, etc;
4,Shipbuilding;
5,Paper roll transfer.
►
Product Brief
Capacity:
ranging from 1-metric ton to 50-metric tons.
The
towed transfer trolley
is traveling on concrete floor and applied to transfer heavy load products such as
steel pipe
,
steel ladle
,
steel billets
from one location to another both inside and outside.