■ Overview
Factory use automated shuttle car rail guided vehicle for transportation

The rail guided vehicle is one kind of battery powered transfer trolleys running on rails, which is used to handle all types of loads including large and heavy ones inside industrial plants, building sites, offshore platforms and vessels. This rail guided vehicle runs on rail with fixed route, it don't have any steering mechanism since they have steel wheels and travel just on rails.Non-steerable transfer cars represent the best solution for production cycles which are regular both time-wise and route-wise.As they are equipped with steel wheels and move on steel rails they are suited to very high loading capacities thanks to the very low friction between steel and steel.For the reason listed above, the cost of these transfer trolleys – referring to same dimensions and loading capacity – is lower than battery trolleys on wheels which must be equipped with steering systems and greater powers.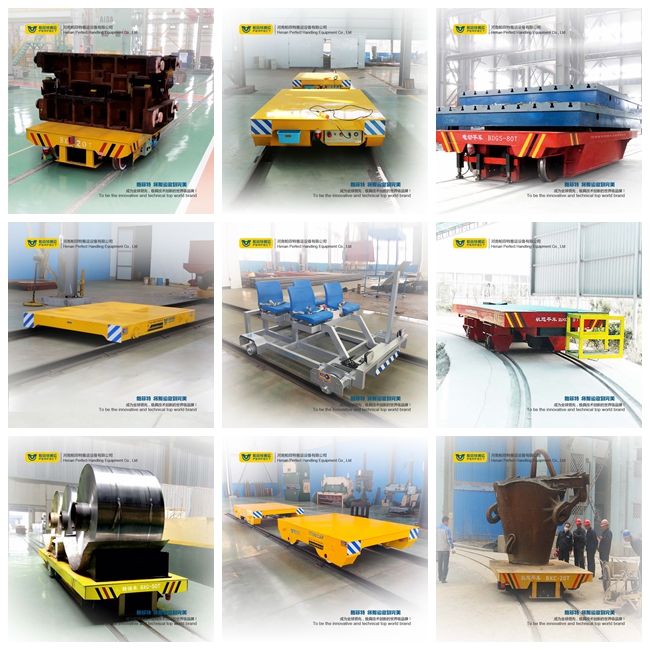 ■ Technical Data
Model

BXC-2t

BXC-20t

BXC-50t

BXC-100t

BXC-150t

Rated Load(t)

2

20

50

100

150

Table Size (mm)

Length(L)

2000

4000

5500

6500

10000

Width(W)

1500

2200

2500

2800

3000

Height(H)

450

550

650

900

1200

Wheel Base(mm)

1200

2800

4200

4900

7000

Rail Inner Gauge(mm)

1200

1435

1435

200

2000

Wheel Diameter (mm)

270

350

500

600

600

Running Speed (m/min)

0-25

0-20

0-20

0-20

0-18

Motor Power(kw)

1

2.2

5

10

15

Battery Capacity

180

180

330

440

600

Battery Voltage

24

48

48

72

72

Running Time When Full Load

4.32

4

3.3

3.2

2.9

Running Distance for One Charge(km)

6.5

4.8

4

3.8

3.2

Recommended Rail Model

P15

P24

P43

QU100

QU100
■ Application
Henan Perfect Handling Equipment Co., Ltd. is specializing in the design and manufacture of heavy material transport system to solve every material handling requirement. Our product includes Industrial Trailers, Transfer Cars, Electric Railway Transfer Trolley, Battery Operated Transport Trolley, Coil and pipes Carrier Equipment, Ladle Handling Equipment, Hydraulic Lift Table, Turntables and many other specialty items.Our line of Industrial Transfer Carts are designed and manufactured to accommodate the needs of a wide range of industries including Steel, Aluminum, Automotive, Heavy Manufacturing and others. These material handling equipment are designed to operate on floor mounted rails and are used to transport heavy materials across crane bays or in areas not serviced by an overhead crane.