■ Overview
100t electric large table china rail ladle transfer trolley
1. Introduction of rail ladle transfer trolley
PERFECT ladle transfer cars are extensively used for moving and transporting hot metal ladles to the ingot casting machines or within the plant itself. These are well known for their capacity to bear enormous weight easily and equipped with two driving mechanism to keeping working when one is damaged by ladle high temperature.Our transfer cars are easily maneuverable and heavily demanded by organizations engaged in conducting metallurgical operations.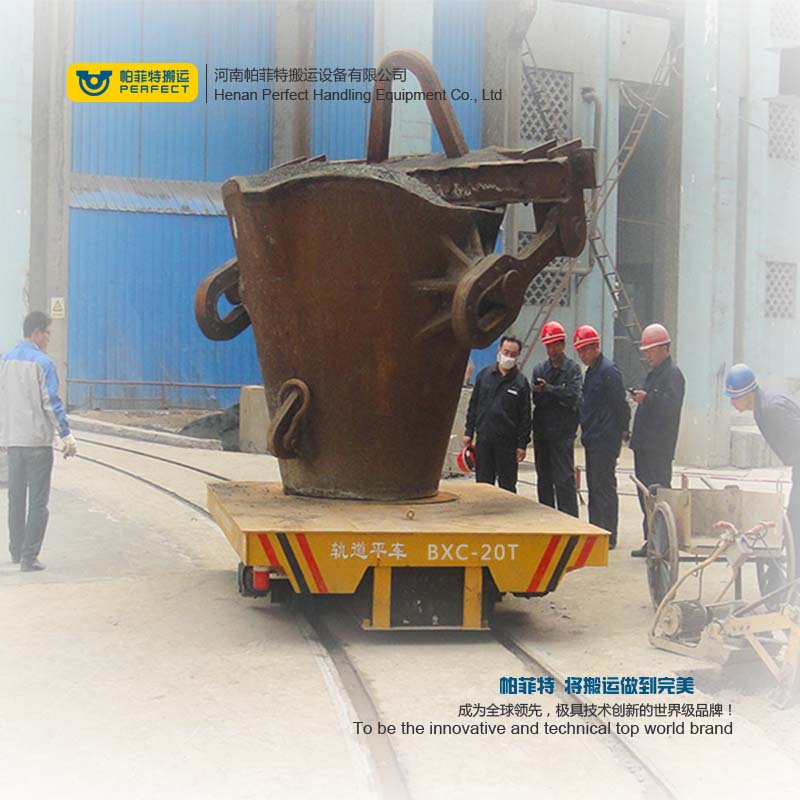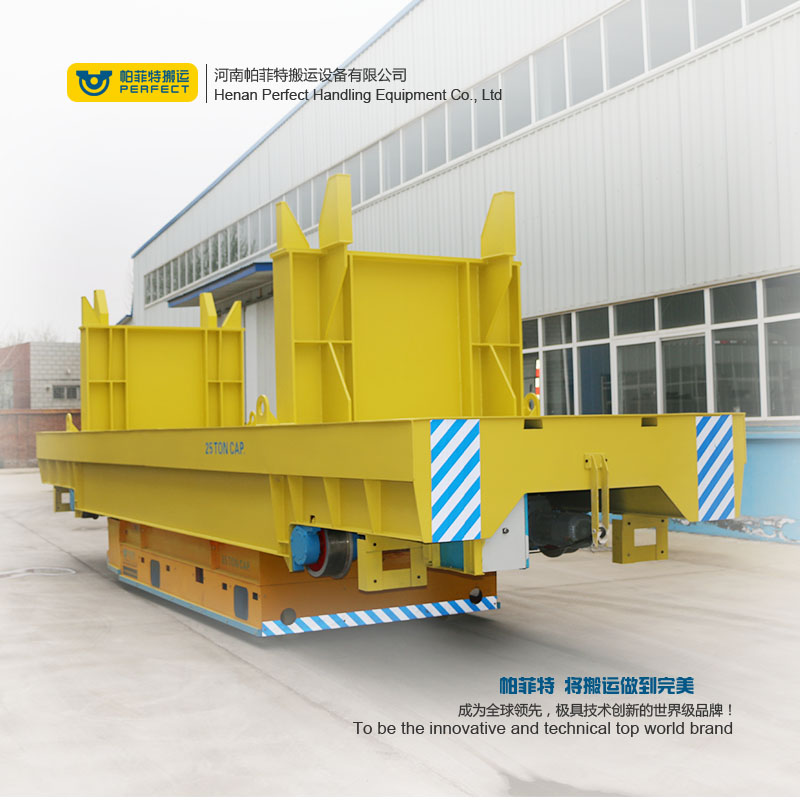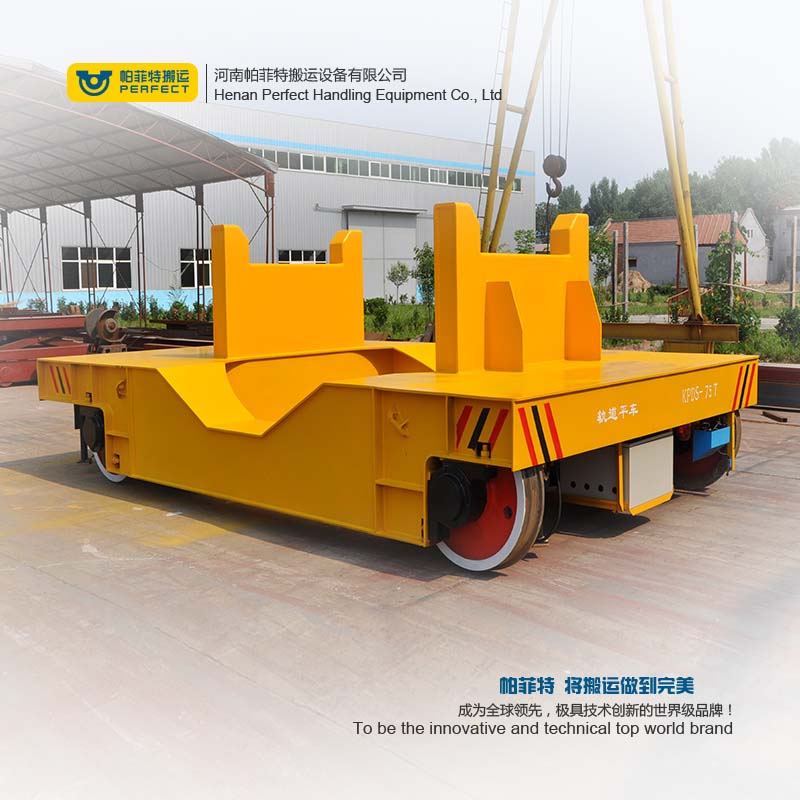 2. Application of rail ladle transfer trolley
With the functions of steady traveling, stepless speed regulation, the ladle rail transfer trolley is commonly

applied to transfer steel ladle, molten and liquid steel, aluminum ladle,furnace clinker, steel slag

etc. These ladle carts usually are used to carry molten steel before the furnace, electric stove or converter in

steel mill

,foundry work,

metallurgy industry

, and

casting factory

.
Generally the outer surface temperature of the ladle is 200-300 degree , due to the high temperature, the ladle rail transfer trolley should be designed with heat exposure proof device, especially to the battery, motor, reducer and electric appliance. If need, we would prepare two motors, so when one is damaged by the ladle 's high temperature the other one could work continually.
■ Technical Data
3. Parameter of
rail ladle transfer trolley
Model
BXC-2t
BXC-20t
BXC-50t
BXC-100t
BXC-150t
Rated Load(t)
2
20
50
100
150
Table Size (mm)
Length(L)
2000
4000
5500
6500
10000
Width(W)
1500
2200
2500
2800
3000
Height(H)
450
550
650
900
1200
Wheel Base(mm)
1200
2800
4200
4900
7000
Rail Inner Gauge(mm)
1200
1435
1435
200
2000
Wheel Diameter (mm)
270
350
500
600
600
Running Speed (m/min)
0-25
0-20
0-20
0-20
0-18
Motor Power(kw)
1
2.2
5
10
15
Battery Capacity
180
180
330
440
600
Battery Voltage
24
48
48
72
72
Running Time When Full Load
4.32
4
3.3
3.2
2.9
Running Distance for One Charge(km)
6.5
4.8
4
3.8
3.2
Recommended Rail Model
P15
P24
P43
QU100
QU100


■ Application
4. Company and Customers' visit
Henan Perfect Handling Equipment Co., Ltd. is a professional designer of material handling equpment to meet the specific requirements of each client.Our product includes Industrial Trailers, Transfer Cars, Electric Railway Transfer Trolley, Scissor Lift Tables, Turntables and many other specialty items.Our special solution to the design of each product includes a detailed review of the client requirements, which is used to develop the Functional Specification of the product.Working closely with you, we will incorporate our years of design experience into the final design of the product to assure complete customer satisfaction.
5. Applicable Sites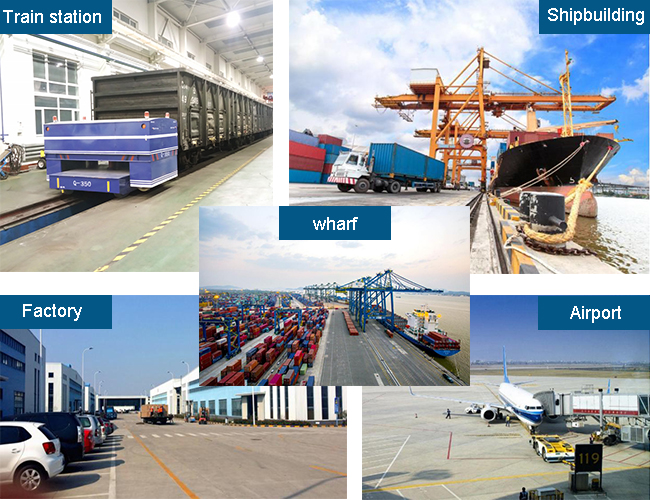 6. Q & A of
rail ladle transfer trolley
How are the transfer trolley powered?
Powered AC carts have power cable connected directly to an electrical panel, typically for carts that travel along a fixed path. Cable reels can be installed for cable management.
Powered DC carts have on-board batteries that have an average running time of 16 hours. DC battery charging units can be installed on-board for convenience. Extended battery life can be accomplished by having four batteries rather than two.
How fast can the transfer cart travel?
Typically, carts come with drive motor speed of 50 fpm (with brake). Optional consideration can be given to ordering VFD (electric car only) for soft start/stop movement. Faster travel speeds can be ordered.
How to protect the transfer trolley as the temperature of ladle is so high?
The materials, driving system and electrical control of the car would be specially designed. The heat insulating material is used in the car to resist the high temperature.