■ Overview
2t wire rope hand chain hoist

►Brief introduction
1.BZ type fixed pillar jib crane is a new product developed by introduced equipment, and also a special lifting equipment designed according to user's needs.
2.It is energy saving and efficient material handling equipment with the following advantages: novel structure, reasonable, simple, easy to operate, flexible rotation, large work space.
3.It can be widely used in factories, workshop production line, assembly line and warehouse, wharf, and weight lifting.
4.This machine is made up of a pillar, slewing jib and electric chain hoist, etc. Column bottom is fixed into concrete; the spiral arm is rotary according to user requirements.
5.Rotary parts are divided into manual rotation and the motor rotation. Electric chain hoist is installed in slewing orbit to lifting weights.
►Installationof Jib Crane
♦ Step 1: The pillar is fixed on the ground by bolts.
♦ Step 2: Connect arm with pillar.
♦ Step 3: Electric hoist for lifting is fixed on the arm. The hoist can move on the arm within 5.5 meters.
♦ Step 4: The crane is lifting goods from a place to another in round distance. They are rotary from 0 to 360 degree.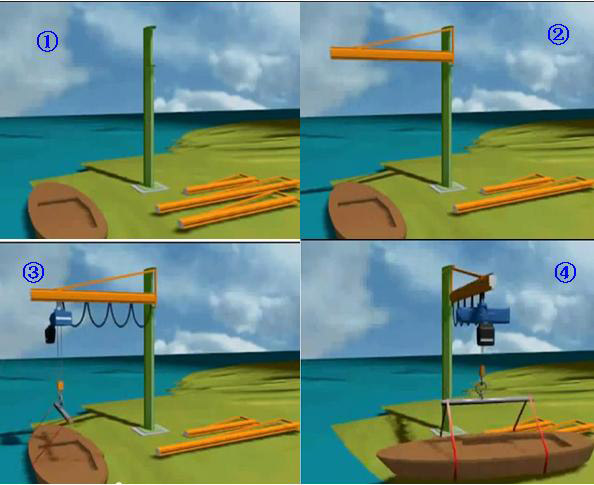 ■ Technical Data
►Technical Parameters Fixed Pillar Jib Crane
Model
BZ0.5
BZ1
BZ2
BZ3
BZ5
Lift capacity
t
0.5
1
2
3
5
Max Lift height
m
3
3
3
4
4
Max. horizontal throw
m
2.6
3-4
2.9-3.9
3.8
3.7
Max. radius of gyration
m
3.6
4-5
4-5
5
5
Max. overturning moment
t/m
3
6
12
18
27
angle of revolution
degree
360
Lift speed
normal
m/min
8 (4)
slow
m/min
0.8 (0.4)
Travel speed
m/min
20
angle of revolution speed
m/min
1
0.75
0.7
0.9
0.6
■ Application
►Application Fixed Pillar Jib Crane
It can be widely used in factories, workshop production line, assembly line and warehouse, wharf for goods lifitng and transporting.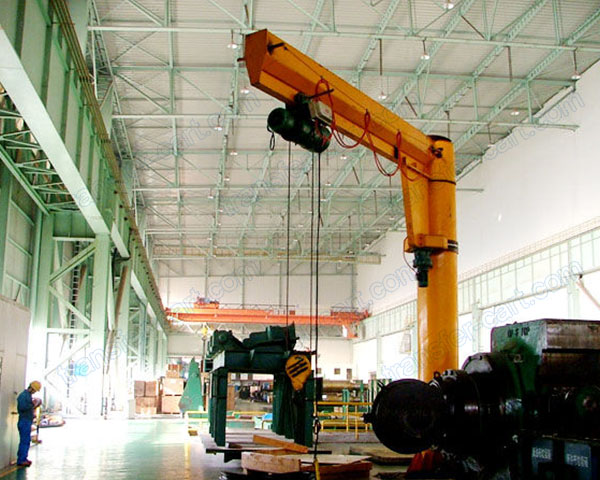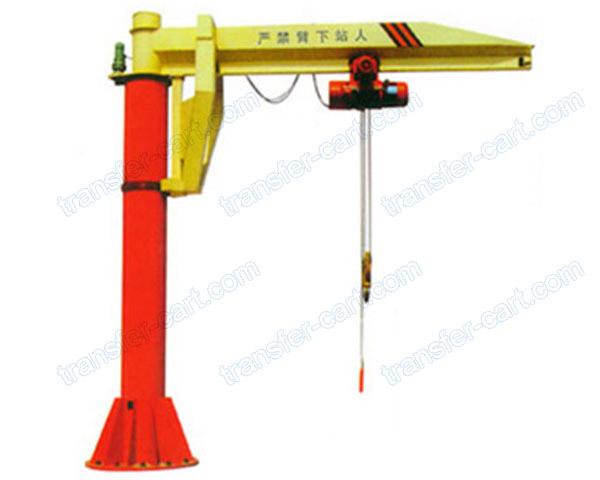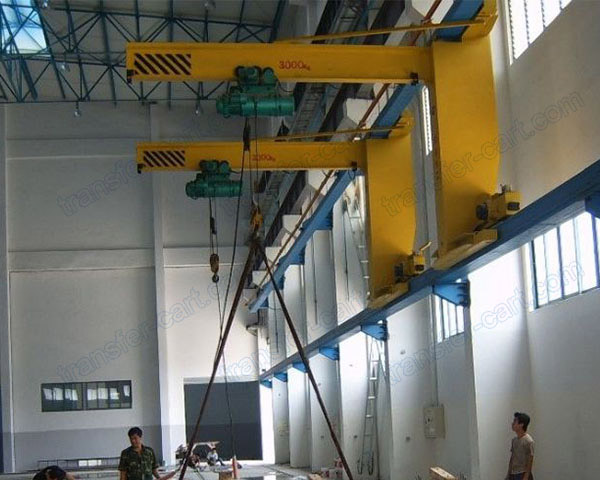 ►Attention
• The working system of rotary jib crane is intermediate.
• Its rated workload ranges from 0.25 t, 0.5 t, and 1t to 2 t, 3 t, 5 t, 10 t.
• You can choose customized cranes with different lifting speed and operation speed on the line with your workplace.
• The machine can be controlled by two means: motoring and manual.
• Turning Angle of rotating arm can be chosen from different perspective on the base of working place, such as 180 °, 270 °, 345 °, 360 °.