■ Overview
Custom-built Steerable Transfer Cart on Concrete Ground
Product Brief
1. Transfer cart is powered by storage battery, which is underneath the cart. And the battery supplies DC 24V/36V/48V to the electrical control system and operate the cart.
2. It is mainly used in steel plant, steel mill for transferring steel products (steel coil, ladles, billets, fabricated structures etc.) from one bay to another; It is also can be applied to shipyard, blast and painting booth, etc. The load capacity is ranging from 1 ton to 300 tons.
3. It is suitable for flammable and explosive environment; harsh thermal working condition and ferry condition.
4. This kind of custom-built steerable transfer cart is free-rotation type and can run freely from one workshop to another.
Features of custom-built steerable transfer cart
1. The structure is box beam structure.
2. Safety equipment: E-stop button, radar detector (dead man control), sound and light alarm, limit switch and anti-collision beam etc.
3. Steerable type; we can also design the cart running along a fixed steel rail.
5. The flat surface is flat decking (grained surface is optional to increase the friction), coil holder can be installed for your special use; the elevating device can be added as your need.
6. Unlimited travelling distance.
Note:
For other special needs, we can design the transfer cart for you.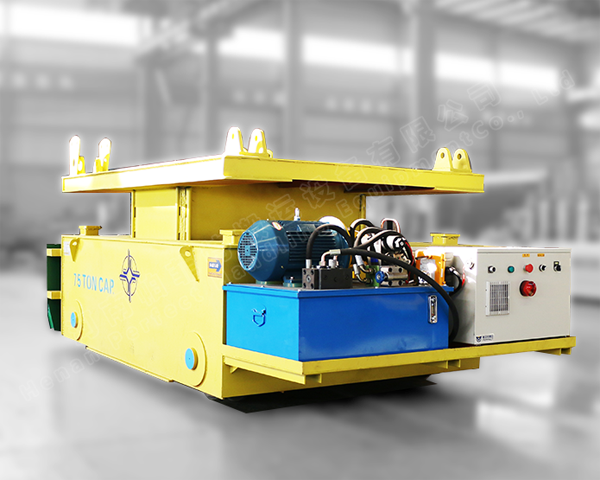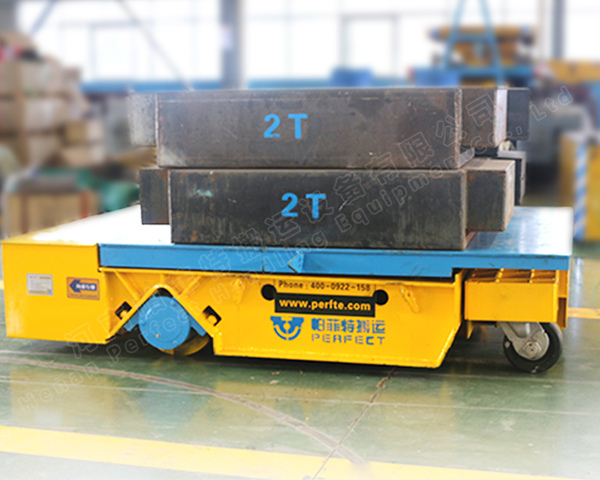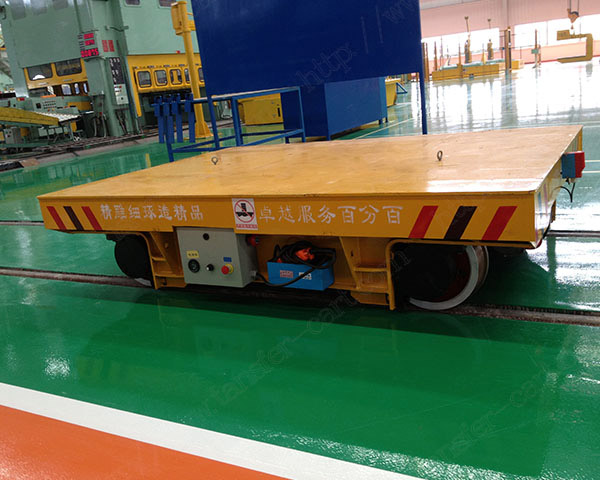 ■ Technical Data
Specification for Energy Transfer Trolley

Load Capacity (t)

20t / Customized / The load capacity up to 300 tons

Table Size/Dimension (mm)

4500X2200X600 / Customized as per need

Special Functions

Anti-explosion, can work for harsh thermal environmental

Control Mode

Cable Pendant / Radio remote control /PLC control

Propulsion

Lead-acid Battery (Maintenance-free type is all right)/Winding/Travelling Cable/Diesel

Frame and Appearance Design

Individual frame design and depending on the transport task

Material

Q235B

Wheels Type

Polyurethane coated wheel

Safety Assurances

Bumpers/Laser scanners/emergency stop button on all side/Protection Bars

Running Speed

0-30m/min Actually, the speed is variable or adjustable as practical transport task

Voltage

The transfer trolley will be tailored for your voltage range

Application Sites

Both Industrial and Commercial

Usage

For kinds of heavy material/machine parts/lathe/equipments transfer or handling
■ Application
Application of the custom-built steerable transfer cart
•
The custom-built steerable transfer cart is widely used to transfer heavy cargoes of steel tube and pipes, coiled sheets and plates, steel bars, machine manufacturing pieces, metal forging and casting pipeces, steel coils, building structural materials, galvanized coils and aluminum coils, other metal and steel heavy cargoes.
•
It has a large load range from 1t to 300t. According to customer's special requirements, specific load ability is designed. And also, different table shape is designed according to different cargo shapes, for example coil car, ladle car, scissor lifting table cargo, etc.