■ Overview
Heavy Industry Electric Transfer Wagon Electric Mould Trolley Cart
The mould transfer trolley cart is powered by battery with steering mechanism to realise any direction rotation and movement. This battery powered trolleys have been conceived and built for their utmost working flexibility. Since they have no predefined path and can steer in any direction and move on any kind of floor these motorized trolleys are very useful to bring the heavy loads where overhead cranes cannot arrive.This kind of battery steerable transfer carts represent the best solution for all those appliances with delicate handling problems in limited places.
PERFECT Company designs and manufactures a wide range of battery motorized trolleys, intelligent self-propelled trailers, transfer carts, die carts, industrial trailers, tilters, upenders and lifting platforms that operate in several industrial sectors: metallurgy, oil & gas, shipyards, automotive, aerospace, power generation, paper mills, metalworking and many others!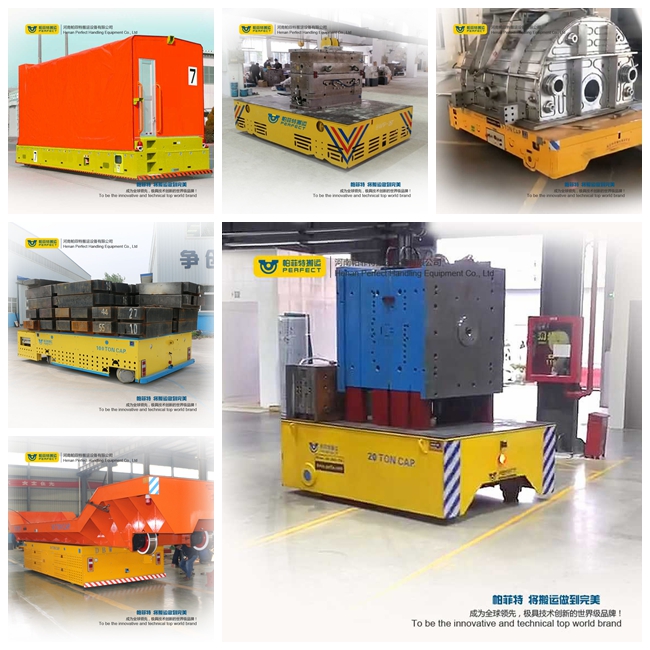 ■ Technical Data
Model
BWP-5t
BWP-12t
BWP-30t
BWP-40t
BWP-80t
Rated Load(t)
5
12
30
40
80
Table Size(mm)
Length(L)
3500
4000
4500
5000
6000
Width(W)
2000
2000
2200
2500
2600
Heigth(H)
500
550
600
750
800
Wheel Diameter(mm)
Ф300
Ф350
Ф400
Ф450
Ф600
Wheel Quantity
4
4
4
4
8
Running Speed(m/min)
0-25
0-20
0-20
0-20
0-18
Battery Voltage(V)
36
48
48
72
72
Running Time When Full Load
5.4
4.3
3.3
3.6
2.9
Max Wheel Load(KN)
25.8
64.5
174
278.4
265.2
Reference Weight(t)
3.6
5.2
7.2
8
12.8
Recommended Rail Model
P18
P24
P38
P43
under developpment
■ Application
Since 2003
,
Henan Perfect Handling Equipment co., Ltd.
has been involved to solve problems related to the
transportation and handling of materials
inside any type of industry.
We design and
manufacture transfer trolleys
,
industrial
trailers
,
rail transport vehicle, coil and ladle transfer carts, electric flatbed carriage
and other handling equipment. Giving innovative solutions to our customers
.